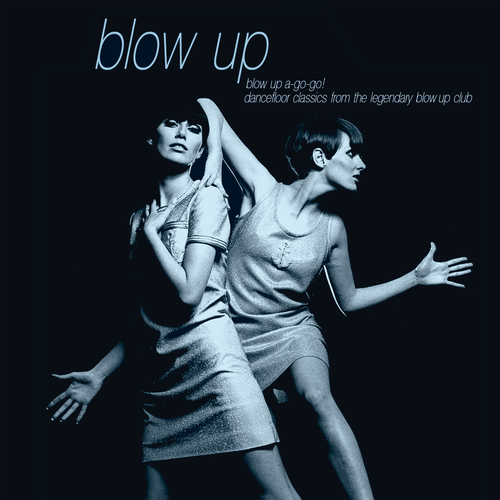 Blow Up A-Go-Go! Dancefloor Classics from the Legendary Blow Up Club
Available Formats
Tracks
Price
Buy
CD Album
20 tracks

£

14.99

12" Vinyl Album
20 tracks

£

34.99
Description
Various Artists - Blow Up A-Go-Go! Dancefloor Classics from the Legendary Blow Up Club
CD and Double Vinyl LP
-
Original stock - very limited!
*
This album is currently deleted but very limited stock of both formats are available exclusively from the Blow Up shop. This release is not available on digital (CD & Vinyl do not come with free download)
Limited original Blow Up A-Go-Go! poster also available
This album was released in November 1999 in conjunction with V2 Records as a collection of some of the classic tracks that have been essential to the sound and legend of the Blow Up club, and as a result the compilation has become legendary in its own right.
Covering Sixties Soul and R'nB, Dancefloor Jazz, Easy Listening, Northern Soul, Soundtracks, Gritty Hammond Grooves, and featuring classics both new and old that have filled the Blow Up Dancefloor over the years, Blow Up A-Go-Go! introduced such delights as The Quik's 60s mod classic 'Bert's Apple Crumble', The Kinks B-Side 'She's Got Everything', Jacques DuTronc's 'Le Responsable' and more to a much wider audience for the first time. Since its release, many of the tracks have become even more recognisable from their subsequent use on various TV adverts.
The compilation takes its title from the second track 'Blow Up A-Go-Go!' which was taken from another label compilation Blow Up presents Exclusive Blend Volume 2. The track was originally entitled 'Wild Elephants' (early pressings of Exclusive Blend list this original title) but was renamed as a thank-you after the track was picked up from the album and used by Gap jeans in their 'Khaki-A-Go-Go' 1999 TV ad campaign.
Reviews
"Blow Up has been punching above its weight ever since it opened in 1993... 20 storming tracks"
Time Out
"An excellent introduction to the Blow Up sound"
The Evening Standard
"London's famous Blow Up Club has been shaking dance floors on a weekly basis since the early 1990s. This collection will cause even the most cynical hips to shimmy"
Amazon.co.uk
"20-track collection from Soho's acclaimed Blow Up club. Like the night itself, the album trips across the decades..."
Q
"A delicious blend of the instantly familiar and obscure gems. The perfect getting-ready soundtrack for the discerning dancer"
Mojo
Tracklisting
CD Album (VVR1010542)
The Quik

- Bert's Apple Crumble

James Clarke

- Blow Up A-Go-Go!

Georgie Fame

- Somebody Stole My Thunder

Soul Hooligan

- Sweet Pea

The Coasters

- Love Potion No. 9

Johnny Otis Show

- Watts Breakway

The Spencer Davis Group

- I'm a Man

Mongo Santamaria

- Cloud Nine

Incredible Bongo Band

- Bongolia

Buddy Huges Experience

- Sahara 72

The Karminsky Experience

- Exploration

Buddy Rich

- The Beat Goes On

Andy Williams

- House of Bamboo

Eddie Jefferson

- Psychedelic Sally

Edwin Starr

- Twenty-Five Miles

Shirley Ellis

- Soul Time

Jaques Dutronc

- Le Responsible

The Kinks

- She's Got Everything

Shadows Of Knight

- Shake

Big Boss Man

- Humanize
12" Vinyl Album (VVR1010541)
The Quik

- Bert's Apple Crumble

James Clarke

- Blow Up A-Go-Go!

Georgie Fame

- Somebody Stole My Thunder

Soul Hooligan

- Sweet Pea

The Coasters

- Love Potion No. 9

Johnny Otis Show

- Watts Breakway

The Spencer Davis Group

- I'm a Man

Mongo Santamaria

- Cloud Nine

Incredible Bongo Band

- Bongolia

Buddy Huges Experience

- Sahara 72

The Karminsky Experience

- Exploration

Buddy Rich

- The Beat Goes On

Andy Williams

- House of Bamboo

Eddie Jefferson

- Psychedelic Sally

Edwin Starr

- Twenty-Five Miles

Shirley Ellis

- Soul Time

Jaques Dutronc

- Le Responsible

The Kinks

- She's Got Everything

Shadows Of Knight

- Shake

Big Boss Man

- Humanize