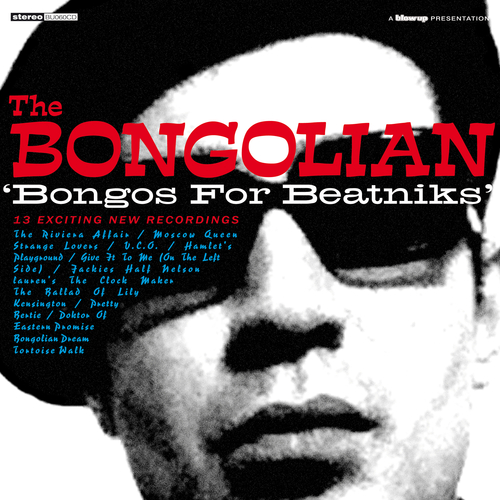 Bongos for Beatniks
Available Formats
Tracks
Price
Buy
12" Vinyl Album
12 tracks

£

16.99

CD Album
13 tracks

£

9.99

Download Album (

WAV

)
13 tracks

£

7.99

Download Album (

MP3

)
13 tracks

£

6.99

Download individual tracks
From £0.79
Description
The Bongolian - Bongos for Beatniks
The 4th Album on Vinyl LP, CD, MP3 & WAV
Free MP3 Download with Vinyl & CD
*
*Download will be available as soon your as order has been processed by us
'Bongos For Beatniks' sees the welcome return of The Bongolian, AKA multi-instrumentalist and Big Boss Man front man Nasser Bouzida. His fourth album under The Bongolian moniker continues the musical journey where 2007's Outer Bongolia left off, bringing us back down to Earth possibly via France circa 1967 via 2011, in a wildly eclectic rare groove fusion of Funk Soul Hammond Beat Jazz and a Sci-Fi Boogaloo. Dig it.
The first single from the album 'The Riviera Affair' was featured on BBC 6 Music Nemone's Lunchtime Loves where Nemone interviewed Nasser before the sell-out Blow Up HMV Next Big Thing concert that evening. Receiving other radio support from Gideon Coe and Craig Charles also at BBC 6 Music, and proving a strong favourite with club DJ's around the UK. The track was also featured as a Sky Sports Soccer AM track of the week. The second single 'Give It To Me (On The Left Side)' the furiously paced bongo-crazed Hammond happening also received good radio play ahead of the album release, both singles along with many album tracks are proving strong favourites on the Blow Up club dance floor.
Reviews
"A bakers dozen of gems. Bongo powered grooves at their very best, Preston Epps eat your heart out"
SCOOTERING 'RECOMMENDED LISTENING'
"I love this new album. It's official. The Bongolian.
My new favourite band."
Craig Charles,
BBC 6Music Funk & Soul Show
"Could easily be the soundtrack to a long lost Italo spy-fi flick. The funkiest squeaks, bleeps and boogaloo heard since Head Hunters hit the racks"
Plectrum The Cultural Pick
"A rhythmic '60s sounding fusion of funk, soul, Hammond, synths and Boogaloo [that] Will appeal to fans of dance and hip-hop as much as collectors of funk and soul"
Vive Le Rock
Tracklisting
12" Vinyl Album (BU060LP)
The Bongolian

- The Riviera Affair

The Bongolian

- Moscow Queen

The Bongolian

- Strange Lovers

The Bongolian

- V.C.O.

The Bongolian

- Hamlet's Playground

The Bongolian

- Give It to Me (On the Left Side)

The Bongolian

- Jackies Half Nelson

The Bongolian

- Lauren's the Clock Maker

The Bongolian

- The Ballad of Lily Kensington

The Bongolian

- Pretty Bertie

The Bongolian

- Doktor of Eastern Promise

The Bongolian

- Tortoise Walk
CD Album (BU060CD)
The Bongolian

- The Riviera Affair

The Bongolian

- Moscow Queen

The Bongolian

- Strange Lovers

The Bongolian

- V.C.O.

The Bongolian

- Hamlet's Playground

The Bongolian

- Give It to Me (On the Left Side)

The Bongolian

- Jackies Half Nelson

The Bongolian

- Lauren's the Clock Maker

The Bongolian

- The Ballad of Lily Kensington

The Bongolian

- Pretty Bertie

The Bongolian

- Doktor of Eastern Promise

The Bongolian

- Bongolian Dream

The Bongolian

- Tortoise Walk
Download Album (BU060DD)