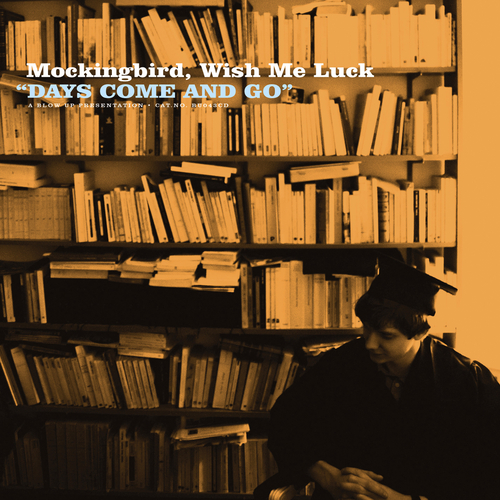 Days Come and Go
Available Formats
Tracks
Price
Buy
CD Album
9 tracks

£

9.99

Download Album (Bonus Track Version) (

WAV

)
11 tracks

£

7.99

Download Album (Bonus Track Version) (

MP3

)
11 tracks

£

6.99

Download individual tracks
From £0.79
Description
Mockingbird, Wish Me Luck - Days Come and Go
The Debut Album from Swedish Indie-Pop 8-piece on CD & Bonus Digital Version (MP3 or WAV)
-
Free MP3 Download (Bonus Version) with CD
*
*Download will be available as soon your as order has been processed by us
Days Come and Go is the debut album from Mockingbird, Wish Me Luck an 8-piece indie-pop orchestra from Angelholm, Sweden (preceded by the limited single 'Pictures (Too Big To Fit In A Sight)'). Written by brothers in the band Daniel and Niklas Wennergren, everything has done without any outside help and in the true DIY indie spirit - drums were recorded in their rehearsal room and almost everything else in their parents' apartment. Despite their admittance that "nobody really knew which buttons to push", by the time Blow Up Records made contact, they had recorded quite a compilation of songs. These songs, along with some newly recorded tracks, form their debut album Days Come And Go. When the album was complete, Daniel and Niklas flew to London to mix the album at The Premises in Hackney with Nick Terry.
The debut went on to make the top five list of albums of the year for Sweden's national newspaper Sydsvenskan, and in January 2013 an expanded edition was released digitally to include additional tracks 'Leaving For A Day' and 'A Note in the Margin'.
Reviews
"God only knows why, but the Swedes are super proficient at doing pop music. Grand songs, delivered well. Belle and Sebastian and Neutral Milk Hotel in bed with Agnetha Faltskog?"
STOOL PIGEON
"Gorgeous indie pop. I could listen to this for months and not tire of it"
SWEDESPLEASE.NET
"Wry but sincere hometown poetry"
NME
"An album to pay attention to"
ALLMUSIC
"Suggests the potential to usurp KoC as Scandinavia's finest exponents of indiefolk"
KRUGER
Tracklisting
CD Album (BU043CD)
Mockingbird, Wish Me Luck

- You've Got a Friend to Lean On

Mockingbird, Wish Me Luck

- Let's Watch the Sunrise

Mockingbird, Wish Me Luck

- The Way That You Paint It

Mockingbird, Wish Me Luck

- Moves on the Screen

Mockingbird, Wish Me Luck

- Pictures (Too Big to Fit in a Sight)

Mockingbird, Wish Me Luck

- Days Come and Go

Mockingbird, Wish Me Luck

- Step In Concrete

Mockingbird, Wish Me Luck

- New Beginnings

Mockingbird, Wish Me Luck

- Summer Again
Download Album (Bonus Track Version) (BU043XD)