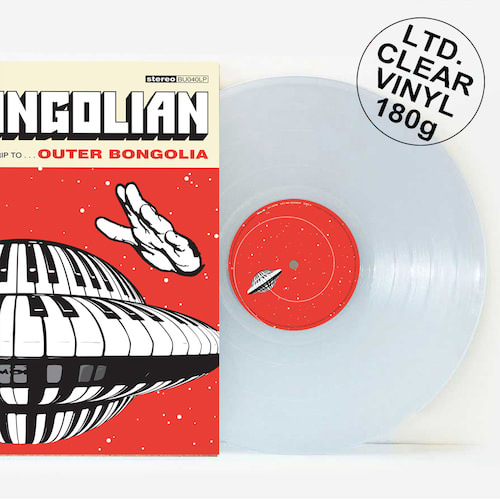 Outer Bongolia
Available Formats
Tracks
Price
Buy
12" Vinyl Album
14 tracks

£

19.99

CD Album
14 tracks

£

9.99

Download Album (

WAV

)
14 tracks

£

7.99

Download Album (

MP3

)
14 tracks

£

6.99

Download individual tracks
From £0.79
Description
The Bongolian - Outer Bongolia
The classic Bongolian album reissued on Heavy-Weight 180g Ltd. Clear Vinyl LP. Also available on CD, MP3 & WAV
LP includes Free Digital Download
As part of Blow Up 25 anniversary celebrations we present a brand new cut and a limited 180g clear vinyl pressing of the classic third Bongolian album 'Outer Bongolian'. The original pressing has been long out of print so will sell fast! Limited to 500 Copies Only
Limited original The Bongolian 'Outer Bongolia' promotional poster also available
Originally released in 2007, 'Outer Bongolia' is the third album from Nasser Bouzida a.k.a 'The Bongolian'. This is Nasser in his element as he embarks on a psychedelic musical trip to the outer regions of the Funk galaxy, taking in spaced-out heavy Bongo rhythms and Latin Soul along the way - all 100% Original Dancefloor Rhythms (no samples!).
Instruments featured include the Hammond Organ, Bongos, Synthesisers, Vibes. Written, arranged, performed and produced entirely by Nasser at his Ramshackle Studios, the album was mixed by Nick Terry (Klaxons, SMD) at The Premises in Hackney, London.
Reviews
"A man with talent to spare. A Latin-flavoured jazz-funk odyssey"
Q MAGAZINE
"Forget your preconceptions, this is the REAL incredible bongo band"
CLASH
"The authentic real deal crafted groove"
THE ORGAN
"A beautifully well rounded album. Gorgeously psychedelic"
★ ★ ★ ★ ½ SUBBA-CULTCHA
"Mightily funky, Hammond driven bongo rhythms... part mod, part Sergio Mendes, very swingin'..."
TIME OUT
Tracklisting
12" Vinyl Album (BU040LP)
The Bongolian

- Talking Synth

The Bongolian

- Feel It

The Bongolian

- The Champion

The Bongolian

- Rock Me

The Bongolian

- Lucky Seven

The Bongolian

- All Aboard

The Bongolian

- The Horn

The Bongolian

- Saturn's Eye

The Bongolian

- Bongo Mambo

The Bongolian

- Space Meter

The Bongolian

- The Wolf

The Bongolian

- Paris Colonade

The Bongolian

- Marimba Down at the Hare

The Bongolian

- The Gospel According to the Bongolian
CD Album (BU040CD)
The Bongolian

- Talking Synth

The Bongolian

- Feel It

The Bongolian

- The Champion

The Bongolian

- Rock Me

The Bongolian

- Lucky Seven

The Bongolian

- All Aboard

The Bongolian

- The Horn

The Bongolian

- Saturn's Eye

The Bongolian

- Bongo Mambo

The Bongolian

- Space Meter

The Bongolian

- The Wolf

The Bongolian

- Paris Colonade

The Bongolian

- Marimba Down at the Hare

The Bongolian

- The Gospel According to the Bongolian
Download Album (BU040DD)